$29.99
AUD
Category: Klutz | Series: Klutz
The colourful rocks you explore with this kit will open up the world of earth science and geology! Kick-start your very own rock collection with the 36 stones. Then use the included crystal powder and mold to grow a geode formation. Collect rocks and conduct experiments, such as a scratch test and float test, to discover their hidden properties. You'll even learn how to make your very own rock tumbler. Use the fact-filled book to keep exploring the world around you! Comes with: 36 rocks, display tray, crystal powder, geode mold, plaster, magnifying glass ...Show more
$19.99
AUD
Category: Klutz
Lovable, furry old Grover is distressed to learn that theres a monster at the end of this book! He begs you not to turn the pages, but of course you just have to see this monster for yourself! You will be delighted to see the monster at the end of this book.
$29.99
AUD
Category: Klutz | Series: Klutz
Spark your interest in circuitry Get ready to be amazed with this electrifying combination of five circuit games to build from scratch. Use actual electronic components to construct a DIY operation game, compete with friends in a Space Loop race, assemble a quiz show board, and more. A step-by-step book of instructions teaches you how to be a maker by adding wires, LEDs, and buzzers for super-charged fun. Includes: AA battery holders, Popsicle stick, 2 blue LEDs, 3 white LEDs, Paper clip, Craft wire, Coated wire, Copper brads, 2 buzzers, Paper craft game pieces, Metal tweezers ...Show more
$19.99
AUD
Category: Klutz | Series: Klutz
This "unicorn of the sea" will shimmer with a crystal spout, horn, and tail. Create a sparkly, crystal-covered friend. Choose from a unicorn, narwhal, dragon, fox, or collect them all! Bend and insert colourful pipe cleaners into your animal to form dazzling details like the unicorn's horn or the drago n's wings. Soak the figurine in our specially formulated crystal solution, and watch the crystals magically grow. Along the way, learn the science behind the magic in the included 20-page book. Comes with: Crystal powder, colourful pipe cleaners, and a custom-molded, plastic animal base ...Show more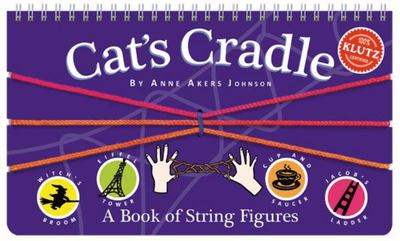 $14.99
AUD
Category: Klutz | Series: Klutz | Reading Level: From 6 To 9
How to do Cat's Cradle, Jacob's Ladder, Cup and Saucer, Eiffel Tower and Witch's Broom.
$24.99
AUD
Category: Klutz | Series: Klutz
Build and decorate three mini pi�atas with foldable cardboard shapes and tissue paper. Book includes ideas for 10 trendy designs, like a unicorn, emoji, watermelon, robot and more! It also includes ideas on how to use the pi�atas for gifting, smashing or stashing small treasures.
$29.99
AUD
Category: Klutz | Series: Klutz
Make, experiment, and play! This activity kit will have you building 11 machines including a gravity powered car and a wacky boxing robot. The fun doesn't stop once you've completed all of the projects in the book -- open-ended prompts will inspire you to continue experimenting with your own designs and modifications! Comes With: 58 LEGO® elements, 6 sheets of papercraft ...Show more
$24.99
AUD
Category: Klutz | Series: Klutz | Reading Level: From 6
Fresh Off the Press Making soap has never been this easy! Klutz brings you a complete kit for melting and molding up to 10 soaps from scratch. With the included soap molds, bright colors, coconut papaya fragrance, soap stickers, and skin-safe glitter, you'll be well on your way to being squeaky-clean i n no time. Plus, while you're waiting for your signature soap to harden, you'll enjoy the added soap-based science experiments you can do right in your own kitchen. It's 100% Klutz certified, good, clean fun. Comes With: 20 blocks of clear soap base, Soap mold with 6 shapes, 20 color tablets, Cosmetic grade glitter, coconut papaya fragrance, Skin-safe soap stickers, Clear cellophane bag, Toy fish, Ribbon, Gift tag, Gift box, 2 paper boats ...Show more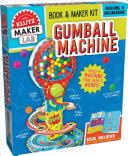 $29.99
AUD
Category: Klutz | Series: Klutz
Perfect for any budding engineer with a sweet tooth Make your own gumball machine with a book of step-by-step instructions, adjustable ramps, custom snaps, and bumper guides. Then, keep the ball rolling with other gumball-related science experiments using simple machines. It's a ball of fun Includes: Ch ipboard parts, Dispenser knob, Transparent acetate, Plastic fasteners ...Show more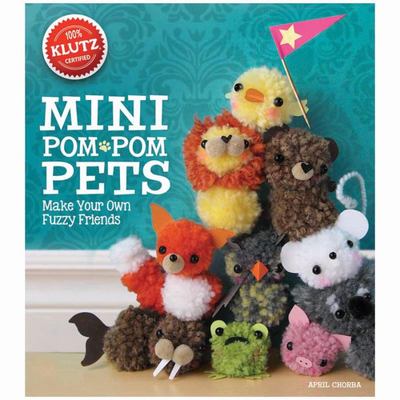 $24.99
AUD
Category: Klutz | Series: Klutz | Reading Level: From 8 To 12
Following on from the success of Pom-Pom Puppies (9780545561648), children can make their own fuzzy friends with Mini Pom-Pom Pets! Children can use a fork to make up to 20 perfect petite pets with pom-poms, including a fox, a chick, a kitten and an owl, and adorn them with eyes, ears, noses and tails! Comes with everything you need, including instructions, pre-made mini and super-mini pom-poms and yarn in eight colours! ...Show more
$26.99
AUD
Category: Klutz | Series: Klutz
Explore the science of gems and minerals while crafting 7 dazzling, crystal projects in your choice of colors. This kit includes everything a stylish scientist needs to make 3 pendant necklaces, 2 statement rings, a pair of earrings and a decorative colossal crystal. Crystal-clear instructions and fun f acts about crystal chemistry spark creativity every step of the way. Comes With: 210g of crystal growing powder, 4 dye tablets, 10 pipe cleaners, Crystal glaze, Necklace cord, Nylon thread, 6 cord ends, 3 clasps, 20 jump rings, Pair of earring wires, 2 ring blanks, Gold craft wire, Craft sticks, Gold glitter ...Show more
$24.99
AUD
Category: Klutz | Series: Klutz | Reading Level: From 6
Learn to draw adorable scented doodle in My Super Sweet Scented Sketchbook! Step-by-step instructions teach readers how to draw sweet snacks, cute critters and much more. Practise your doodling skills right inside the book on 25 activity pages, and colour in your masterpieces with 4 fruity scented marke rs to make your art smell super sweet. ...Show more