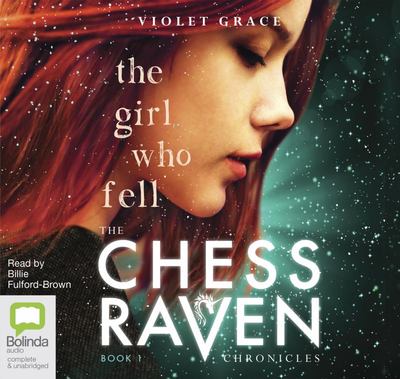 The Girl Who Fell
by Billie Fulford-Brown (Read by); Violet Grace
$39.95
AUD
Category: Young Adult CD | Series: The\Chess Raven Chronicles Ser.
Chess Raven is a hacker who has grown up with nothing and no one. Her parents died when she was three and her foster care situation turned out badly - very badly. But on her 16th birthday, her life is turned upside down.Chess learns her mother was Queen of the Fae and her father was a brilliant physicis t. The unique blend of her mother's fairy blood and her father's humanity gives Chess - and Chess alone - the ability to unlock a mysterious vessel that will unleash unimagined powers - with devastating consequences. Thrown into a new world where nothing is as it seems, Chess must work out who to trust as vying forces race to control her. Or kill her.Reunited with her childhood friend Tom Williams, an enigmatic shape-shifting unicorn, Chess discovers love for the first time and is prepared to risk her life for it. But first she must learn to overcome a fear of her own power and stop waiting for other people to save her. She is the one she's been waiting for. ...Show more
$49.95
AUD
Category: Young Adult CD
Eighteen-year-old Liobhan is a powerful singer and an expert whistle player. Her brother has a voice to melt the hardest heart, and is a rare talent on the harp. But Liobhan's burning ambition is to join the elite warrior band on Swan Island. She and her brother train there to compete for places, and fi nd themselves joining a mission while still candidates. Their unusual blend of skills makes them ideal for this particular job, which requires going undercover as travelling minstrels. For Swan Island trains both warriors and spies. Their mission: to find and retrieve a precious harp, an ancient symbol of kingship, which has gone missing. If the instrument is not played at the upcoming coronation, the candidate will not be accepted and the kingdom will be thrown into disarray. Faced with plotting courtiers and tight-lipped druids, an insightful storyteller and a boorish Crown Prince, Liobhan soon realises an Otherworld power may be meddling in the affairs of the kingdom. When ambition clashes with conscience, Liobhan must make a bold decision – and the consequences may break her heart. ...Show more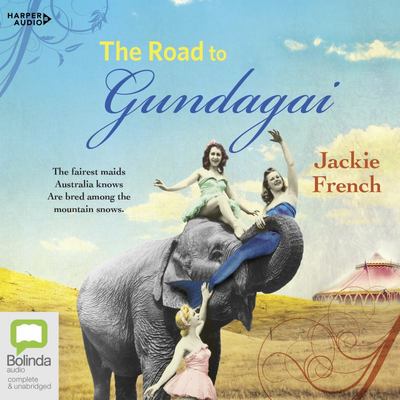 $39.95
AUD
Category: Young Adult CD | Series: The\Matilda Saga Ser.
A page-turning, heart-warming family saga set in the Snowy Mountains during the Depression in the 1930s. Blue Laurence has escaped the prison of her aunt's mansion to join the Magnifico Family Circus, a travelling troupe that brings glamour and laughter to country towns gripped by the Depression. Blue h ides her crippled legs and scars behind the sparkle of a mermaid's costume, but she's not the only member of the circus hiding a dark secret. The unquenchable Madame Zlosky creates as well as foresees futures. The bearded lady is a young man with laughing eyes. A headless skeleton dangles in the House of Horrors. And somewhere a murderer is waiting ... to strike again. This third title in the Waltz for Matilda saga is set in 1932, at the height of the Depression. Miss Matilda is still running Drinkwater Station, but has put aside her own tragedy to help those suffering in tough economic times and Joey, from the Girl from Snowy River, uses his new medical skills to solve a mystery. ...Show more
$29.95
AUD
Category: Young Adult CD | Series: Once and Future Ser.
I've been chased my whole life. As a fugitive refugee in the territory controlled by the tyrannical Mercer corporation, I've always had to hide who I am. Until I found Excalibur. Now, I'm done hiding. My name is Ari Helix. I have a magic sword, a cranky wizard and a revolution to start. When Ari crash-l ands on Old Earth and pulls a magic sword from its ancient resting place, she is revealed to be the newest reincarnation of King Arthur. Then she meets Merlin, who has aged backward over the centuries into a teenager, and together, they must break the curse that keeps Arthur coming back. Their quest? Defeat the cruel, oppressive government and bring peace and equality to all humankind. No pressure. ...Show more

$39.95
AUD
Category: Young Adult CD
Take a technikolour trip through science with the intrepid Dr Karl! Come on a technikolour roadtrip with Dr Karl! Dr Karl is on a mission to track down Awe and Wonder in the Universe. Why do wombats poo cubes? Do fish drink water? What nearly destroyed humanity on Halloween 2015? How do you use an inci nerating toilet? Find out why we've sent a spacecraft with Dr Karl's name on it to kiss the Sun, whether cannibalism is nutritious, and the answer to the Biggest Question of All – why does spaghetti always break into three pieces? Plus a whole lot more. So strap in and get ready for a random ride through the Universe. Who knows where you'll end up! ...Show more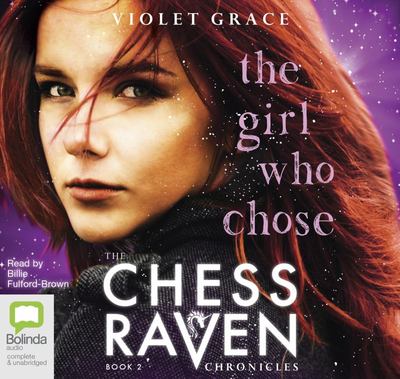 Girl Who Chose, The
by Violet Grace; Billie Fulford-Brown (Read by)
$39.95
AUD
Category: Young Adult CD | Series: The\Chess Raven Chronicles Ser.
If anyone ever tells you you?re ?The One?, check the fine print. Being Queen is not all it?s cracked up to be: all pageantry and no power, always lonely but never alone. Chess Raven is starting to realise that perhaps she wasn?t ?The One? after all. Maybe she was just the last resort. When an opportunit y arises to form an alliance with the royal family in Venice, Chess jumps at the chance to prove herself. But her mission is complicated by the heir to the throne, Prince Victor Grigio, whose heart is set on romance ? regardless of what Chess thinks. Meanwhile, the sisterhood of mermaids who swim in the Venetian canals offer Chess a deal: find the scroll containing their lost songs of freedom and power in exchange for her mother?s life. Hunted by enemies both human and Fae, Chess races to uncover the truth about her past and find the scroll that will set her mother free. First, though, she must learn the lesson of love: what it is ? and what it isn?t. ...Show more