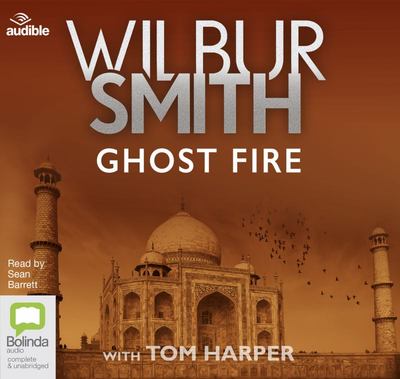 $49.95
AUD
Category: Adult CD | Series: Courtney Ser.
1754. Inseparable since birth and growing up in India, Theo and Connie Courtney are torn apart by the tragic death of their parents.Theo, wracked with guilt, seeks salvation in combat and conflict, joining the British in the war against the French and Indian army. Connie, believing herself abandoned by her brother, and abused and brutalised by a series of corrupt guardians, makes her way to France, where she is welcomed into high society. Here, she once again finds herself at the mercy of vicious men, whose appetite for war and glory lead her to the frontlines of the French battlefield in North America.As the siblings find their destinies converging once more, they realise that the vengeance and redemption they both desperately seek could cost them their lives ... ...Show more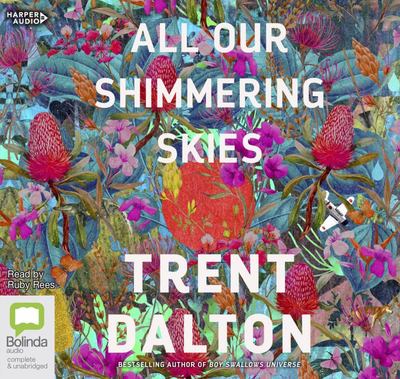 $49.95
AUD
Category: Adult CD
Darwin, 1942, and as Japanese bombs rain down, motherless Molly Hook, the gravedigger's daughter, is looking to the skies and running for her life. Inside a duffel bag, she carries a stone heart, alongside a map to lead her to Longcoat Bob, the deep-country sorcerer who she believes put a curse on her f amily. By her side are the most unlikely travelling companions: Greta, a razor-tongued actress and Yukio, a fallen Japanese fighter pilot. The treasure lies before them, but close behind them trails the dark. And above them, always, are the shimmering skies.A story about gifts that fall from the sky, curses we dig from the earth and the secrets we bury inside ourselves, All Our Shimmering Skies is an odyssey of true love and grave danger, of darkness and light, of bones and blue skies. It is a love letter to Australia and an ode to the art of looking up - a buoyant, beautiful and magical novel, abrim with warmth, wit and wonder. ...Show more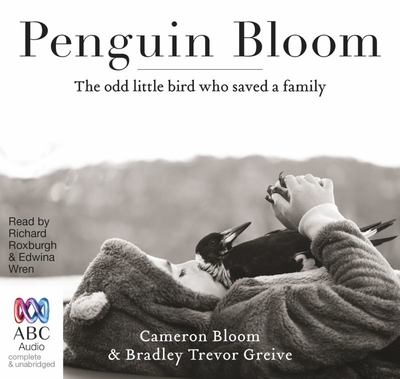 $39.95
AUD
Category: Adult CD
Penguin the Magpie is a global social media sensation. People the world over have fallen in love with the stunning and deeply personal images of this rescued bird and her human family. But there is far more to Penguin's story than meets the eye. It begins with a shocking accident, in which Cameron's wif e, Sam, suffers a near fatal fall that leaves her paralysed and deeply depressed. Into their lives comes Penguin, an injured magpie chick abandoned after she fell from her nest. Penguin's rescue and the incredible joy and strength she gives Sam and all those who helped her survive demonstrates that, however bleak things seem, compassion, friendship and support can come from unexpected quarters, ensuring there are always better days ahead. This plucky little magpie reminds us all that, no matter how lost, fragile or damaged we feel, accepting the love of others and loving them in return will help to make us whole. ...Show more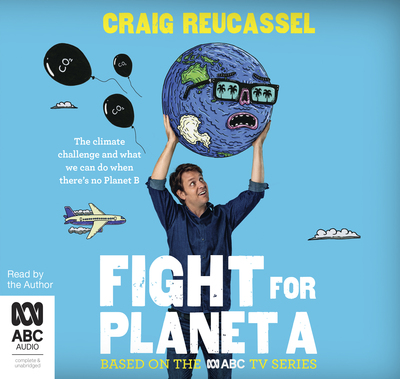 $34.95
AUD
Category: Adult CD
Most Australians know that climate change is real, but many don't know what to do about it and feel powerless. In Fight for Planet A, Craig Reucassel shows it isn't as scary as we think, and we can make a difference to help protect the world for future generations. Craig sets out solutions and practical day-to-day changes we can make to reduce our carbon footprint, as well changes governments need to make without further delay. Find out: why 'avoid, renew, reduce and offset' should be the new Insta mantra; why solar and Green Power can cut your carbon footprint, even if underfloor heating and hydroponics are your thing; how the government's investment in discussion papers means we lag behind most of the world when it comes to low-emission cars; why electric cars have more grunt than your average muscle car; how long we could power our homes on the emissions generated by our favourite cuts of beef; and much more. Featuring a few shocking statistics to make you sit up and take notice, plus many more pro-active tips and strategies for everyday Australians who want to make a difference, Fight for Planet A is for anyone who has no Planet B – which is most of us. ...Show more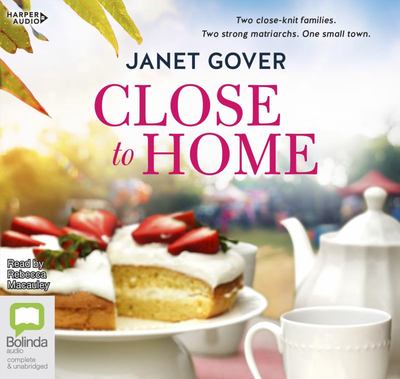 Close to Home
by Janet Gover; Rebecca Macauley (Read by)
$39.95
AUD
Category: Adult CD
Two houses, both alike in dignity ...Aunt Alice Dwyer loves her small Australian town. She's rarely left its comforting embrace. She knows everyone in it; in fact, she's related to most of them. All she wants is to keep her family safe and the town running exactly the way it always has. Her way. But whe n an exotic French artist comes to town, her hold begins to weaken ...Lucienne Chevalier, once the toast of Europe, has come to Nyringa after a tragic loss to hang up her sequins and create a place for her circus family to rest between tours. With her is Simon, her grandson, recovering from an injury so damaging he can no longer perform. Lucienne fears he'll never embrace a new future. That is, until she notices the chemistry between him and the new schoolteacher ... all they need is a push.Both grande dames think they know what's best, but with equal amounts of stubbornness on both sides, peace looks unlikely. Then a relationship between Alice's rebellious great-niece and a teenage acrobat sets the two communities on a collision course. But when the bakery starts making patisseries over lamingtons, the battle lines are truly drawn ...A story of community and family. Of the love that brings them together ... and the fears that would tear them apart. ...Show more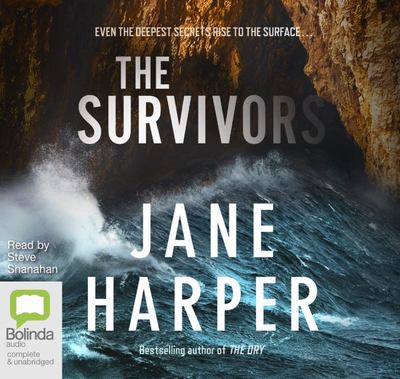 $49.95
AUD
Category: Adult CD
Kieran Elliott's life changed forever on a single day when a reckless mistake led to devastating consequences. The guilt that haunts him still resurfaces during a visit with his young family to the small coastal town he once called home.Kieran's parents are struggling in a community which is bound, for better or worse, to the sea that is both a lifeline and a threat. Between them all is his absent brother Finn.When a body is discovered on the beach, long-held secrets threaten to emerge in the murder investigation that follows. A sunken wreck, a missing girl, and questions that have never washed away ... ...Show more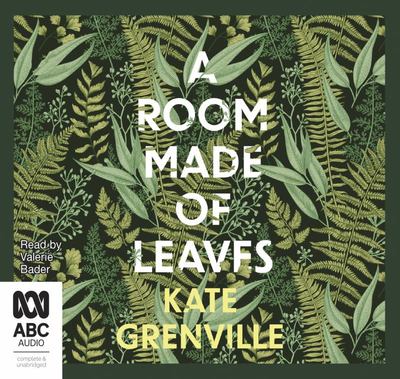 $39.95
AUD
Category: Adult CD
In her introduction Kate Grenville tells, tongue firmly in cheek, of discovering a long-hidden box containing that memoir. What follows is a playful dance of possibilities between the real and the invented.Grenville's Elizabeth Macarthur is a passionate woman managing her complicated life-marriage to a ruthless bully, the impulses of her own heart, the search for power in a society that gave her none-with spirit, cunning and sly wit.Her memoir reveals the dark underbelly of the polite world of Jane Austen. It explodes the stereotype of the women of the past - devoted and docile, accepting of their narrow choices. That was their public face-here's what one of them really thought.At the heart of this book is one of the most toxic issues of our times - the seductive appeal of false stories. Beneath the surface of Elizabeth Macarthur's life and the violent colonial world she navigated are secrets and lies with the dangerous power to shape reality. ...Show more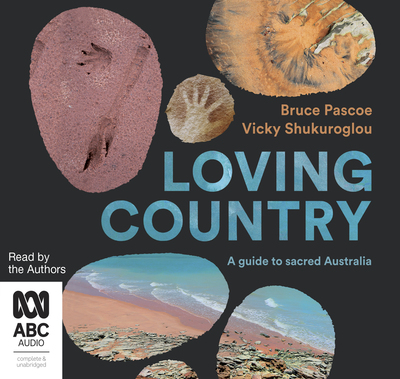 $39.95
AUD
Category: Adult CD
Listeners are encouraged to discover sacred Australia by reconsidering the accepted history and hearing diverse stories of her Indigenous people. The intention of this audiobook is to foster communication and understanding between all peoples and country, to encourage environmental and social change. Co -authors Bruce Pascoe and Vicky Shukuroglou hope that all communities will be heard when they tell their stories, and that these stories and the country from which they have grown will be honoured. From the ingenious fish traps at Brewarrina and the rivers that feed the Great Barrier Reef, to the love stories of Wiluna and the whale story of Margaret River, there is so much to celebrate here. For those who want to enrich their understanding of our world, and for travelers looking for more than a whistle-stop tour of Australia, this audiobook offers some keys to unlock and reveal the heart of this loving country. ...Show more
$39.95
AUD
Category: Adult CD
A response to the devastating 2019-20 bushfires, Animals Make Us Human both celebrates Australia's unique wildlife and highlights its vulnerability. Through words and images, writers, photographers and researchers reflect on their connection with animals and nature. They share moments of wonder and reve lation from encounters in the natural world: seeing a wild platypus at play, an echidna dawdling across a bush track, or the inexplicable leap of a thresher shark; watching bats take flight at dusk, or birds making a home in the backyard; or following possums, gliders and owls into the dark.Hopeful, uplifting and deeply moving, this collection is also an urgent call to action, a powerful reminder that we only have one world in which to coexist and thrive with our fellow creatures. By highlighting the beauty and fragility of our unique fauna, Australia's favourite writers, renowned researchers encourage listeners to consider it in a new light.Featuring: Barbara Allen, Robbie Arnott, Tony Birch, James Bradley, Mark Brandi, Geraldine Brooks, Anne Buist, Melanie Cheng, Claire G. Coleman, Ceridwen Dovey, Chris Flynn, Nayuka Gorrie, Dan Harley, Ashley Hay, Toni Jordan, Leah Kaminsky, Paul Kelly, Meg Keneally, Tom Keneally, Cate Kennedy, David Lindenmayer, Ella Loeffler, Maia Loeffler, Jen Martin, Angela Meyer, Sonia Orchard, Favel Parrett, Marissa Parrott, Bruce Pascoe, Jack Pascoe, Sue Pillans, Nick Porch, Holly Ringland, Euan Ritchie, Antoinette Roe, Kirli Saunders, Graeme Simsion, Tracy Sorensen, Shaun Tan, Lucy Treloar, Karen Viggers, Emma Viskic, John Woinarski, Clare Wright. ...Show more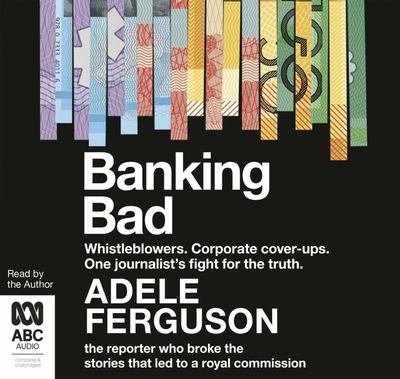 $39.95
AUD
Category: Adult CD
In Banking Bad, Adele Ferguson traces the origins of the banking scandal to the early 1990s, when buckets of money began pouring into compulsory superannuation funds, set up by Labor Treasurer Paul Keating. Attracted by the increasing cash, banks devised corrupt and questionable practices to get their h ands on funds, along with aggressive selling practices that ignored due diligence, trust and honesty. Drawing on her multiple sources who led her to break the story of malpractice – the individuals, business owners, farmers and ordinary people who lost everything. Adele also looks at the falls from grace at the hands of the royal commission of some of the country's most highly ranked captains of industry, the failure of regulators and recommendations of the commissioner, Kenneth Hayne. And she asks whereto from here? ...Show more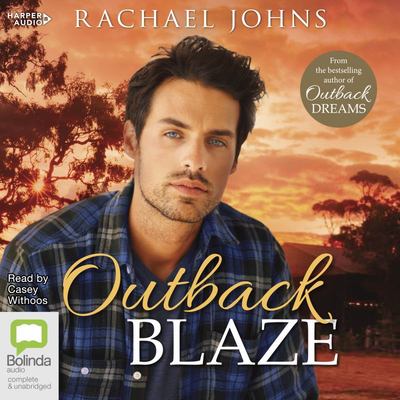 $39.95
AUD
Category: Adult CD | Series: Bunyip Bay Ser.
Ruby Jones was always an optimist, but the trauma of her past had made her wary. So when she flees to the small rural community of Bunyip Bay to start afresh, she has her sights firmly set on establishing her horse-riding business and rebuilding her life. The last thing Ruby wants is a romance. In fact, after all she has been through, she can't imagine she will ever believe in love again. Police officer Drew Noble has no intention of staying in Bunyip Bay – he is just an outsider seeking temporary refuge. But as the charm of the town sways him, Drew finds himself increasingly drawn to the community and its inhabitants, as well as another newcomer, the lovely Ruby Jones. When Drew investigates a suspicious fire at Ruby's parents' business, he finds himself feeling strangely protective of the girl with the flowers in her hair. As the details of Ruby's past emerge and she comes once more under threat, Drew realises he will do all in his power to save her. Soon these outsiders discover they have both lost their hearts – not only to the town but to each other. ...Show more