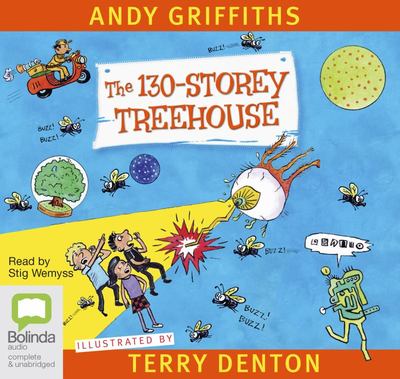 $24.95
AUD
Category: Junior CD | Series: Treehouse Ser.
There are lots of laughs at every level in The 130-Storey Treehouse, the tenth book in the number one bestselling Treehouse series from Andy Griffiths and Terry Denton, out in hardback. This is our Treehouse, come on up! We've added 13 news levels to our Treehouse, including a soap bubble blaster, a G RABINATOR (it can grab anything from anywhere at any time), a time-wasting level, a toilet paper factory (because you can never have too much toilet paper) and an extraterrestrial observation centre . . . Which will come in handy when giant flying eyeballs from outer space come to grabinate US! ...Show more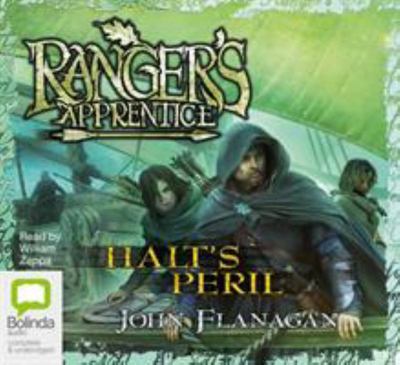 $34.99
AUD
Category: Audiobook | Series: Ranger's Apprentice CD
The renegade outlaw group known as the Outsiders may have been chased from Clonmel, but not before killing Halt's only brother. Now Rangers Halt and Will, along with the young warrior Horace, are in pursuit. The Outsiders have done an effective job of dividing the kingdom into factions and are looking t o overtake Araluen. It will take every bit of skill and cunning for the Rangers to survive. Some may not be so lucky. ...Show more
$34.99
AUD
Category: Audiobook
Hal and the Herons have done the impossible. This group of outsiders has beaten out the strongest, most skilled young warriors in all of Skandia to win the Brotherband competition. But their celebration comes to an abrupt end when the Skandians' most sacred artifact, the Andomal, is stolen-and the Heron s are to blame. To find redemption they must track down the thief Zavac and recover the Andomal. But that means traversing stormy seas, surviving a bitter winter, and battling a group of deadly pirates willing to protect their prize at all costs. Even Brotherband training and the help of Skandia's greatest warrior may not be enough to ensure that Hal and his friends return home with the Andomal-or their lives. ...Show more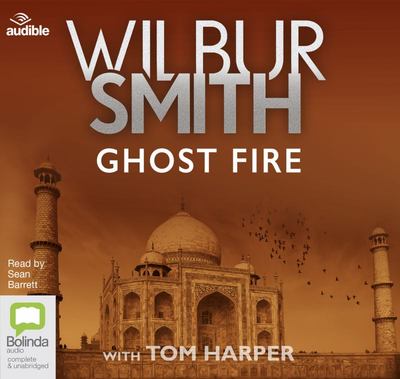 $49.95
AUD
Category: Adult CD | Series: Courtney Ser.
1754. Inseparable since birth and growing up in India, Theo and Connie Courtney are torn apart by the tragic death of their parents.Theo, wracked with guilt, seeks salvation in combat and conflict, joining the British in the war against the French and Indian army. Connie, believing herself abandoned by her brother, and abused and brutalised by a series of corrupt guardians, makes her way to France, where she is welcomed into high society. Here, she once again finds herself at the mercy of vicious men, whose appetite for war and glory lead her to the frontlines of the French battlefield in North America.As the siblings find their destinies converging once more, they realise that the vengeance and redemption they both desperately seek could cost them their lives ... ...Show more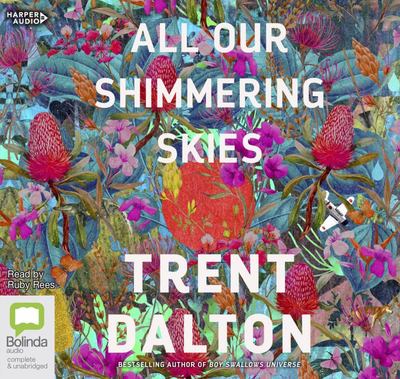 $49.95
AUD
Category: Adult CD
Darwin, 1942, and as Japanese bombs rain down, motherless Molly Hook, the gravedigger's daughter, is looking to the skies and running for her life. Inside a duffel bag, she carries a stone heart, alongside a map to lead her to Longcoat Bob, the deep-country sorcerer who she believes put a curse on her f amily. By her side are the most unlikely travelling companions: Greta, a razor-tongued actress and Yukio, a fallen Japanese fighter pilot. The treasure lies before them, but close behind them trails the dark. And above them, always, are the shimmering skies.A story about gifts that fall from the sky, curses we dig from the earth and the secrets we bury inside ourselves, All Our Shimmering Skies is an odyssey of true love and grave danger, of darkness and light, of bones and blue skies. It is a love letter to Australia and an ode to the art of looking up - a buoyant, beautiful and magical novel, abrim with warmth, wit and wonder. ...Show more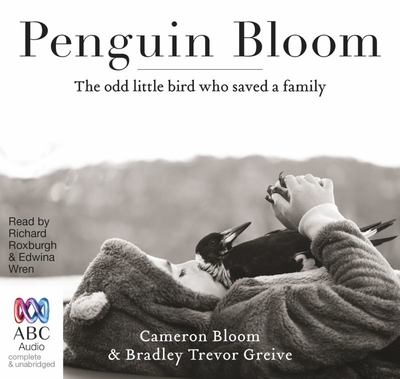 $39.95
AUD
Category: Adult CD
Penguin the Magpie is a global social media sensation. People the world over have fallen in love with the stunning and deeply personal images of this rescued bird and her human family. But there is far more to Penguin's story than meets the eye. It begins with a shocking accident, in which Cameron's wif e, Sam, suffers a near fatal fall that leaves her paralysed and deeply depressed. Into their lives comes Penguin, an injured magpie chick abandoned after she fell from her nest. Penguin's rescue and the incredible joy and strength she gives Sam and all those who helped her survive demonstrates that, however bleak things seem, compassion, friendship and support can come from unexpected quarters, ensuring there are always better days ahead. This plucky little magpie reminds us all that, no matter how lost, fragile or damaged we feel, accepting the love of others and loving them in return will help to make us whole. ...Show more
$34.95
AUD
Category: Adult MP3
Looking back on her own childhood and writing career, Margaret Atwood examines the metaphors which writers of fiction and poetry have used to explain – or excuse! 2 their activities, looking at what costumes they have assumed, what roles they have chosen to play. In her final chapter she takes up the ch allenge of the title: if a writer is to be seen as 'gifted', who is doing the giving and what are the terms of the gift? Margaret Atwood's wide reference to other writers is balanced by anecdotes from her own experiences, both in Canada and on the international scene. The lightness of her touch is underlined by a seriousness about the purpose and the pleasures of writing, and by a deep familiarity with the myths and traditions of Western literature. ...Show more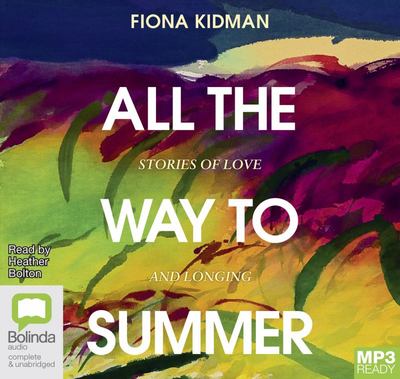 $39.95
AUD
Category: Adult MP3
Fiona Kidman's early stories about New Zealand women's experiences scandalised with their vivid depictions of the heartbreaks and joys of desire, illicit liaisons and unconventional love. Her writing made her a feminist icon in the early 1980s and she has since continued to tell the realities of women's lives, her stories resonating with fans over the years and across the world. To mark her 80th birthday, this volume brings together a variety of her previously published stories as well as several that are new or previously uncollected; all moving, insightful and written with love. The final stories trace her own history of love, a memoir of significant people from childhood and beyond. ...Show more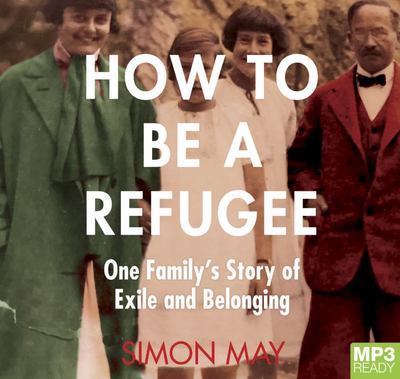 $39.95
AUD
Category: Adult MP3
The most familiar fate of Jews living in Hitler's Germany is either emigration or deportation to concentration camps. But there was another, much rarer, side to Jewish life at that time: denial of your origin to the point where you manage to erase almost all consciousness of it. You refuse to believe th at you are Jewish.How to Be a Refugee is Simon May's gripping account of how three sisters - his mother and his two aunts - grappled with what they felt to be a lethal heritage. Their very different trajectories included conversion to Catholicism, marriage into the German aristocracy, securing 'Aryan' status with high-ranking help from inside Hitler's regime, and engagement to a card-carrying Nazi. Even after his mother fled to London from Nazi Germany and Hitler had been defeated, her instinct for self-concealment didn't abate. Following the early death of his father, also a German Jewish refugee, May was raised a Catholic and forbidden to identify as Jewish or German or British. In the face of these banned inheritances, May embarks on a quest to uncover the lives of the three sisters as well as the secrets of a grandfather he never knew. His haunting story forcefully illuminates questions of belonging and home - questions that continue to press in on us today. ...Show more
$39.95
AUD
Category: Adult MP3
From the Pulitzer Prize-winning author of A Thousand Acres, Jane Smiley, The Strays of Paris is a captivating story of three extraordinary animals – and one little boy – whose lives cross paths in Paris. Paras is a spirited young racehorse living in a stable in the French countryside. That is until one afternoon when she pushes open the gate of her stall and, travelling through the night, arrives quite by chance in the dazzling streets of Paris. She soon meets a German shorthaired pointer named Frida, two irrepressible ducks and an opinionated crow, and life amongst the animals in the city's lush green spaces is enjoyable for a time. But everything changes when Paras meets a human boy, Étienne, and discovers a new, otherworldly part of Paris: the secluded, ivy-walled house where the boy and his nearly 100-year-old great-grandmother live quietly and keep to themselves. As the cold weather of Christmas nears, the unlikeliest of friendships blooms between human and animals. Charming and beguiling in equal measure, Jane Smiley's audiobook celebrates the intrinsic need for friendship, love and freedom - whoever you may be. ...Show more