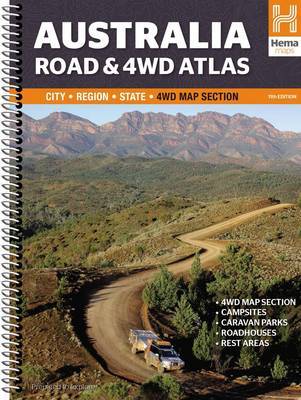 $34.99
AUD
Category: Atlas
The Australia Road & 4WD Atlas is the complete atlas for on and off-road navigation. The atlas contains a Hema Road Atlas and a bonus 4WD section, both with updated mapping. Helpful symbols indicate camping and rest areas, overnight camping, caravan parks, points of interest and 24-hour fuel. The ro ad mapping is organised state-by-state, with regional and suburban maps, as well as city maps that have listed accommodation options and points of interest. The 4WD section includes mapping of Cape York, Fraser Island, High Country Victoria, the Flinders Ranges, Central Australia, the Top End, the Kimberley and the Pilbara. The Australia Road & 4WD Atlas is ideal for both on and off-road travel and is to be used for both planning a trip and navigating on the road. ...Show more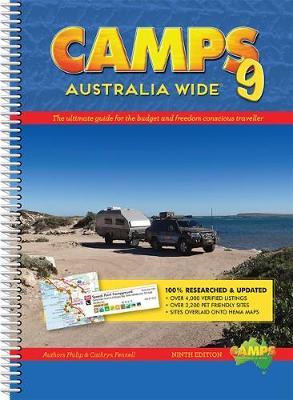 $59.95
AUD
Category: Atlas
Camps 9 is the definitive guide to low-cost camping across Australia, featuring verified free camps, caravan parks, national and state parks, community campsites, showgrounds, station stays and much more. The latest edition of Camps Australia Wide features more sites than ever before, giving campers, ca ravanners, 4WD enthusiasts, road trippers and other travellers more places to pull up and stay for the night. Travellers who want to take their pet on the road can choose from over 3,000 pet-friendly campsites using Camps 9, making it easy to discover Australia without having to leave your furry (or otherwise) friend behind. To help you navigate your journey, Camps 9 features Hema road atlas mapping for all of Australia. With each site pinpointed and referenced on the mapping, it's easy to find the perfect place to stay without huge camping fees using Camps 9. ...Show more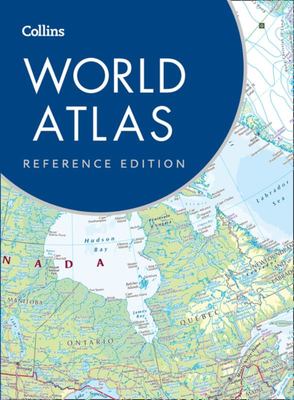 $47.99
AUD
Category: Atlas
A new, fully updated edition of this popular atlas in the stylish and authoritative Collins world atlas range. Designed in the distinctive Collins style, it is the ideal reference atlas for school, home and business use. This is a great value world atlas with more place names and mapping than any other atlas at this price. Discover more about our world, continent by continent, with this Collins World Atlas, which has been brought fully up-to-date to reflect all recent changes. The highly detailed yet clear and accessible maps give balanced worldwide coverage, and the atlas includes beautifully illustrated thematic pages. Also includes maps of the world's physical features, details of all the world's states and territories, a map of world's time zones, internet links and thousands of facts and key world statistics, including world and continental ranking tables, to enhance your knowledge of the world today. CONTENTS INCLUDE * Highly detailed reference maps, beautifully illustrated thematic pages and the latest facts and statistics. * 32 pages showing the latest topical global issues, including climate and weather, population, urbanization and environment. * Detailed section showing key statistics, description and flags for every country in the world. * Section showing stunning satellite images. * Special section listing all the UNESCO World Heritage sites in each continent with location maps. * Detailed index to over 80,000 place names. In short, this Collins World Atlas presents a complete view of the world, bringing it to life through innovative maps, stunning images and detailed content. It offers an exciting perspective on how the planet is made up, how it looks and how it works. ...Show more
$50.00
AUD
Category: Atlas
Now in its sixth edition, Explore Australia by Caravan and Motorhome has everything you need to know about caravan and motorhome trips in Australia, whether it's the dream lap or just excellent weekends away. This ever-popular caravanning bible has been completely revised and updated, with details on th e routes to take, the best things to see and the most stunning places to park your caravan, wherever you want to travel in Australia. To make it even easier to find the best place to stay, each section now contains a list of the greatest caravan parks specially curated by the author. Every listing contains handy symbols that have all the important information, such as whether the park is dog-friendly or has a dump point available. There are also symbols to make it easy to see at a glance if a park is a member of a major caravan organisation (BIG4, Top Tourist Parks, Family Parks and Kui Parks). There's also a detailed guide to preparing yourself, and your caravan or motorhome, for time on the road with tips on packing, safety, towing and how to find the best camps and the cheapest fuel. ...Show more
$39.99
AUD
Category: Atlas
This new edition of the Times Desktop Atlas of the World has been fully revised to bring all the maps and geographical information completely up-to-date. Detailed maps in the distinctive and respected Times style provide balanced, systematic coverage of all parts of the world. Each continent is introduc ed by a political map showing individual countries, followed by regional maps showing towns and cities, roads, railways, international boundaries and topography. A geographical reference section shows flags, statistics and facts for the world's states and territories. Statistics and world maps explain major geographical themes, including population, cities, climate, the environment and telecommunications. ...Show more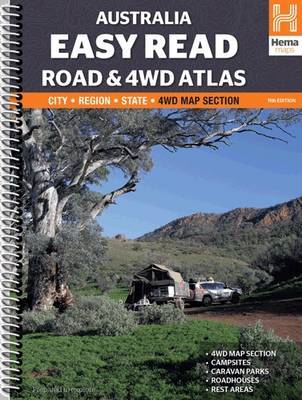 $39.99
AUD
Category: Atlas
The Australia Easy Read Road & 4WD Atlas features Australia-wide atlas mapping, detailed city maps and a dedicated 4WD map section at an enlarged size for easy reading. Pinpointed on the atlas mapping are the points of interest that matter to tourers, including camping and rest areas, caravan parks, 24-hour fuel, roadhouses, overnight camps and more.An additional 4WD map section includes mapping of Cape York, Fraser Island, the Top End, the Kimberley, the Pilbara, Central Australia, High Country Victoria and the Flinders Ranges, while city and suburbs maps, distance grids, a national park guide and a complete index are also included to simplify trip planning and navigation. Opens to 610x397mm in size. ...Show more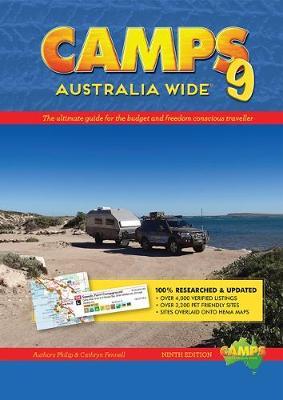 $54.99
AUD
Category: Atlas
Camps 9 is the definitive guide to low-cost camping across Australia, featuring verified free camps, caravan parks, national and state parks, community campsites, showgrounds, station stays and much more. The latest edition of Camps Australia Wide features more sites than ever before, giving campers, ca ravanners, 4WD enthusiasts, road trippers and other travellers more places to pull up and stay for the night. Travellers who want to take their pet on the road can choose from over 3,000 pet-friendly campsites using Camps 9, making it easy to discover Australia without having to leave your furry (or otherwise) friend behind. To help you navigate your journey, Camps 9 features Hema road atlas mapping for all of Australia. With each site pinpointed and referenced on the mapping, it's easy to find the perfect place to stay without huge camping fees using Camps 9. ...Show more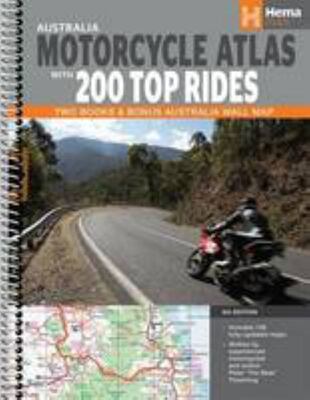 $45.00
AUD
Category: Atlas
The Australia Motorcycle Atlas is split into two books, with volume 1 containing the 200 Top Rides while volume 2 is Hema's best-selling road atlas. 200 Top Rides written by Peter 'The Bear' Thoeming. Australia-wide road atlas mapping. Best Touring Rides wall map.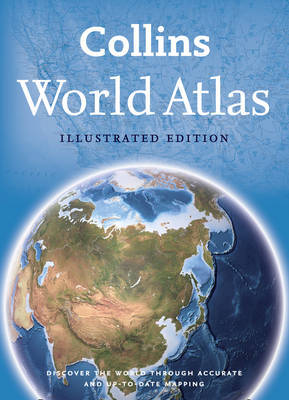 $29.99
AUD
Category: Atlas
A paperback edition of this fully revised general reference atlas in the exciting Collins world atlas range. Highly detailed maps giving balanced world-wide coverage, beautifully illustrated thematic pages and thousands of facts and statistics enable the user to know the world. This perfect family refer ence atlas provides a comprehensive and topical view of today's world and the issues facing it. The contents include: * Highly detailed reference maps, with beautifully illustrated thematic pages which include facts and tables plus a fully revised world statistics section with thousands of country statistics that enable the user to know the world. * 32 pages of world and 26 continental highly illustrated, thematic pages provide detailed information on, and interpretations of, major geographical themes and global issues. * Over 150 pages of highly accurate and fully up-to-date maps with an index of over 50,000 place names (10,000 more than the nearest competitor at this price). * Global issues including the environment, world conflict, population, climate change and the international drugs trade. * Comparative satellite images show dramatic examples of environmental change e.g. Deforestation. * Highly detailed, updated regional and world-wide mapping. Updates include: World's newest country South Sudan. Netherlands Antilles now dissolved. Samoa and Tokelau jump the dateline. Over 1,000 names updated. 2012 north and south pole positions. Updated administrative division names and capitals. Aral Sea continues to shrink, as does the Dead Sea, its surface height now -421m below sea level. Many new and enlarged national parks, new railways and international airports. ...Show more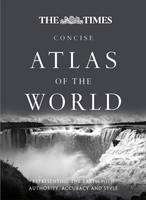 $175.00
AUD
Category: Atlas
A fully revised and updated twelfth edition of this major world atlas in the authoritative and prestigious Times Atlas range. This beautifully designed atlas has all the information you need, whether planning a trip, keeping in touch with world news, solving quizzes and crosswords or just exploring the world from your armchair. Comprehensive reference mapping provides an amazingly detailed view of the world, and the illustrated thematic content covers the most important geographical issues of the day, making this atlas a valuable addition to any reference collection. Updates include: * Over 4,000 name changes throughout the world * Addition of newly named Queen Elizabeth Land in Antarctica * New administrative divisions in India, Bangladesh, Chad and Finland * Populations of major cities updated using latest UN figures * Major new railways added in China, Saudi Arabia, Spain, Algeria and Brazil * Major new roads added in France, Poland and India * Realigned International Date Line around Samoa and Tokelau Historical maps of the world show the political make-up of the world over the last 150 years and the atlas also includes plans of 41 of the world's major cities. An expanded satellite imagery section contains an overview image of each continent, and is complemented with a detailed image. Produced in the same style as the Times Comprehensive Atlas of the World, with a slate grey finish and a beautiful image. ...Show more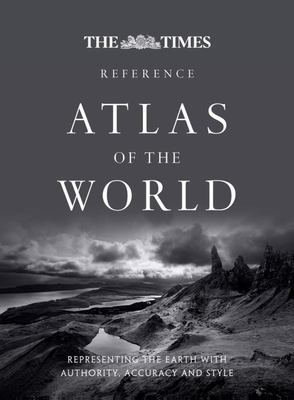 $55.00
AUD
Category: Atlas | Series: The\Times Atlases Ser.
A new edition of this comprehensive atlas from the prestigious and authoritative Times Atlas range Containing the latest satellite images and fascinating historical images, this edition has been brought fully up-to-date to provide a detailed and attractive picture of today's world. The reference maps gi ve exceptional detail, helping users explore the world. The introductory section gives a detailed profile of today's world and covers major geographical and global issues through maps, images, statistics, and graphics. A comprehensive guide to the world's states and territories including flags, profiles, and key facts, makes this the ideal reference atlas for home, school or office. ...Show more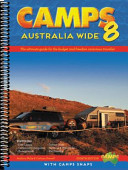 $89.95
AUD
Category: Atlas